Content Moderation for

Dating
Concerned about harmful content and user safety on your dating platform? Lasso's AI-powered content moderation platform provides a robust solution, designed to prioritize safety and trust while you focus on creating meaningful connections for your users.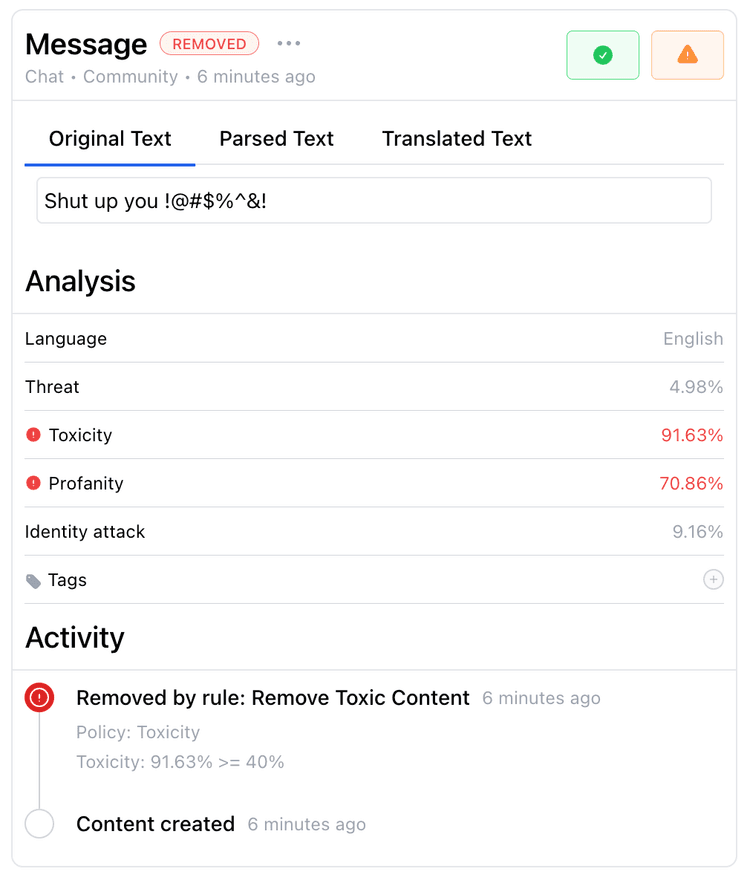 Grow your

dating platform

while protecting

your brand

and

user experience
User safety and content integrity are paramount in the dating app industry. Scams, false identities, and harmful content can quickly erode user trust and brand reputation. Lasso's AI-powered content moderation platform offers real-time, scalable solutions to effectively tackle these challenges, ensuring a safer and more authentic user experience.
Why choose Lasso
Key Features
AI Moderation
Our AI automatically detects spam, toxicity, nudity, violence, drugs and other harmful content.
Moderation Dashboard
All internal tooling you need for content moderation: review queues, audit logs, translations, access controls, moderation reports and much more.
Custom Moderation Rules
Every platform is different, customize moderation rules to fit your platform's needs.
View all our features
Trusted By


AI Content Moderation
that's
not just an API
Supercharge your operations with powerful content moderation tooling. Lasso provides all the necessary content moderation tools to keep your platform clean from harmful content.
Text Moderation
Detect spam, toxicity, profanity, threats and other harmful content using AI
Image & Video Moderation
Moderate images & videos on nudity, violence, drugs and other harmful content using AI
Advanced Dashboard
Our dashboard provides all the necessary tooling to moderate efficiently & effectively
Custom AI models
Decrease false positives and negatives by training custom AI models for your use case
Customizable moderation
Easily adjust your moderation rules in Lasso's dashboard, no coding required
User level moderation
Detect and take action against specific bad actors
Audit logs
Stay compliant by keeping track of all the actions taken by your team
Team Collaboration
Define access controls and permissions for your team
Analytics & Reporting
Get insights into your content and user behavior
User Reporting
Built-in functionality for your users to report content or users
Sentiment Analysis
Measure the sentiment of your users on your platform
Link Detection
Detect QR codes, URLs, email addresses and phone numbers
Toxicity & Threat Detection
Automatically detect toxic and threatening content
Image Similarity Detection
Fingerprint images and prevent spamming of similar content
Detect text in images
Automatically detect text in images with OCR analysis
Fast & Reliable
Our platform is blazing fast and has a 99.99% uptime
Lasso Moderation helps Woov with keeping the festival communities safe and clean. Working and integrating with Lasso has been easy from the start.
Sebastien Westerduin
CEO & Founder - Woov
Want to learn more about
content moderation for

Dating

?
Book a demo for a personalized walk-through. Learn how Lasso can empower your team in protecting your users and brand.
Lasso

Moderation
Protect your brand and safeguard your user experience.
© 2023. All rights reserved.